Join Janet R. Damon, Digital Librarian and History Teacher at DELTA high school, as she discusses ways to build connections between students' lived experiences, history and culture and the critical information seeking skills they need in a knowledge economy.  Using student-driven inquiry, digital tools and databases, alongside strategies for multilingual students and students of color we can begin to honor our student identities in powerful ways while ensuring they have the skills to thrive in the future.
Janet R. Damon is a history teacher and digital librarian at DELTA High School.  She helps youth to connect with their legacy of intellectual power, innovation, and collective intelligence through emancipatory pedagogy, liberatory literature, creative arts, and the preservation of oral traditions. She also leads Afros and Books, a citywide literacy and nature engagement that offers healing-centered activities for Black, Latinx, Biracial, and blended families in Denver.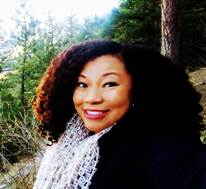 Her organization has offered more than fifty culturally sustaining programs for youth and distributed more than one thousand books to Denver-area youth.  Janet was awarded the Inaugural Making our Futures Brighter Award from the Black Family Advisory Council in 2022, the Rev. Dr. Martin Luther King Jr. Humanitarian Award in 2022, and the Library Journal Mover and Shaker Award in 2020.